2013.02.21 Thursday
★ rungu
☆神々が住む島、Bali島からコットンニットのヒモパンツrungu

<ルグ>

の紹介です。
フンドシ着用で、ヒモがもたつく〜とか、ちょっとイカツすぎ〜と思ってたあなたへ。
最近、撮影を依頼していただいた時に、モニターひもパンいただいて試してますが、もたつきもないしルックスもおしゃれでなにより気持ちいいです。
なにより、締め付けが無い開放感がいいです。
値段もリーズナブルだし、フンドシに抵抗ある人は是非お試しアレ!
以下引用
rungu以下
一般的なショーツのゴムひもは、ウエストやそけい部(足の付け根の内側)のリンパ節が集まる
大切な部分を締め付けるため、リンパ液や血液の流れが妨げられて、免疫力低下や身体の冷え
などの様々な体調不良や病気の原因になる、と言われています。
日本に昔から伝わるふんどしは、その点、締め付けがなくて身体に優しい下着としていま、男性にも女性にも愛用者が増えています。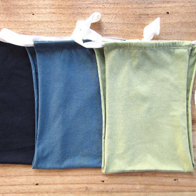 runguの「コットンニットのひもパンツ」はその名の通り、本体部分はもちろん、ひも部分もニット生地でゴムひもを使っていません。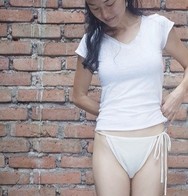 履くと、形は水着のビキニのよう。これなら、ふんどしは少々抵抗ある、という方も、この ひもパンツで気軽にふんどしの長所をお楽しみいただけます。適度な伸縮性があるので、ヨガなどにも最適です。
※rungu<ルグ>は生理用布ナプキン
も取り扱いしております。
 ※2月28日までのお申し込みは、送料無料です。
  W
ebsite
→ www.dewirungu.com
About rungu underwear
 Regular underwear or panties with elastic bands are often too tight.
They block the flow of the body fluids in the lymph glands and blood vessels in the waist and groin (joint of hip bone and legs) area, causing many health problems such as cold feet, low energy and weak immune system.
rungu's cotton string underwear are designed to free us from the problem; the soft cotton strings instead of elastic bands that you tie around your waist and the un-tailed sides that fit naturally to your body.
Hustle of tying the string every time you wear it? It's nothing compared to the benefits of wearing the stress-free underwear; healthy body and healthy mind! It is very comfortable and relaxing, perfect for everyday use. Suitable also for meditation and yoga.