2009.07.10 Friday
☆ Green Room Festival for GIRLS 'LIFE ON THE BEACH'
 2009.7.11(sat)~7.26(sun)
 渋谷パルコpart 1 6f パルコファクトリーのGreen Room Festival for GIRLS
'LIFE ON THE BEACH'
展示場でGreen Room Festivalでスナップした写真を展示します。
The photograph of the Green Room festival is exhibited.
The place is Parco in Shibuya.
The photograph where the snap was done with Green Room Festival in Green Room Festival for GIRLS of Shibuya Parco part 1 6f Parco factory 'LIFE ON THE BEACH' is exhibited.  
参加アーチスト:Heather Brown , Thomas Campbell , 花井祐介 ,
ヒダタカヒロ , 加藤文太郎 , ROXY ARTPROJECT , アライヤ , Candle June .
LIVE: BE THE VOICE, 東田トモヒロ, 多和田み,KAT,etc
FILM: DEAR&YONDER, VELVET, HIGH WATER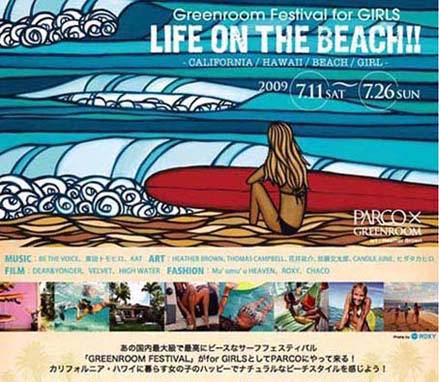 GIRL'sは勿論、MEN'sも是非チェックしてみてください!